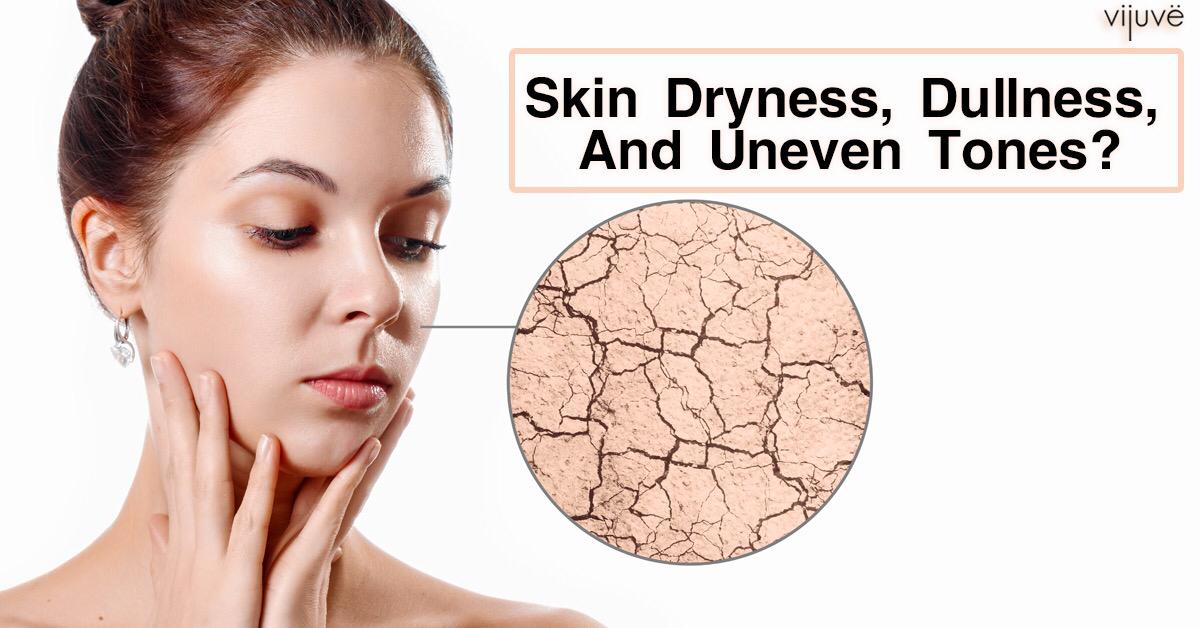 Who Is The Ideal Candidate For VIJUVE Skincare Regime?
Skin dryness, dullness, and uneven tones can start at any age if you haven't been taking care of your skin. Your skin is the first defense barrier against infections and diseases so its important to make it strong and healthy. Your skin reflects your health, and any time you are stressed, there is an immediate breakout on your skin.
When To Start A Skincare Regime?
Did you know that your skin starts aging after 25? This is when the signs of wrinkles and sun damage start surfacing on your skin so you have to keep a check!  This means you should start your skincare regime anytime between the 20s and 30 or you can even start earlier if you have genetic skin problems or are living in an environment where external factors such as pollution, stress and unhealthy diets can take a toll on your skin. There are two separate regimes, a night one and a day one, however, for beginners, you can start with either.
VIJUVE Skincare Serum
Serums have some potent benefits over skin creams and moisturizers. VIJUVE 45% Vitamin C and E enriched serum which is proven to prevent your skin from losing its radiance or glow due to external factors and brightens the skin.  In fact, Vijuve serums enhance your natural complexion and help your skin aging process slow down. The right amounts of Double Hyaluronic acid help in keeping dryness away all through the day without making your skin feel oily.
As you age, your skin becomes thinner and overtime, it will start sagging, this means you will be getting wrinkles earlier and your skin will look dull. Vijuve skin serum helps maintain skin elasticity, so that skin of yours is uplifted and firm. If you have a double chin and are looking for a natural way to shed it, instead of going under the knife try this amazing serum!  Use this skin serum and watch wonders work!
Who Is The Ideal Candidate?
You are an ideal candidate for Vijuve skin serums if you have any of these conditions or desire a flawless skin:
Skin dryness
Skin dullness
Uneven skin tone
Sagging skin
Double chin
Acne-prone skin
Need a glow and radiance
Need a younger-looking skin
Want to get rid of suntan and sun damage
Fight wrinkles and gain skin elasticity
Don't want anything feeling heavy or oily on your skin
Need an all in one serum which will give promising results
Between 25 and 30, looking for a great skin product, over 40 and want to rejuvenate your skin!
If you aim for all of these, then you are the ideal candidate for VIJUVE skincare regime! The product is safe enough to be used on any skin type, it doesn't cause itchiness, excessive oiliness and feels just perfect on the skin. There is no age limit to start a skin regime. The time is now and it will last you a lifetime of great looking skin for a long long time!
VIJUVE Skin Massager Is A Must Have In Your Skin Regime!
 VIJUVE Anti Aging Face Massager for Wrinkles Appearance Removal and Facial Skin Tightening is another tool which will keep your skin radiant uplifted and glowing, you can use it at any age and , massaging really helps in draining impurities from the skin!  
Conclusion
If you haven't got your hands on Vijuve skin serum, you are losing onto great benefits for your skin.  If you desire an amazing skin, which will make heads turn, make them wonder about what magic portions you are using, this is your little secret! Get one of these serums and your skin will be thankful to you! 
Now Use:
Stay Safe! Apply Skin care products without touching your face with hands directly. Vjiuve Face Massager can help you do that!
9,000 vibrations per minute of Vijuve Facial Massager can help you get tighter skin that is full of elasticity and collagen. Try it out TODAY!
---