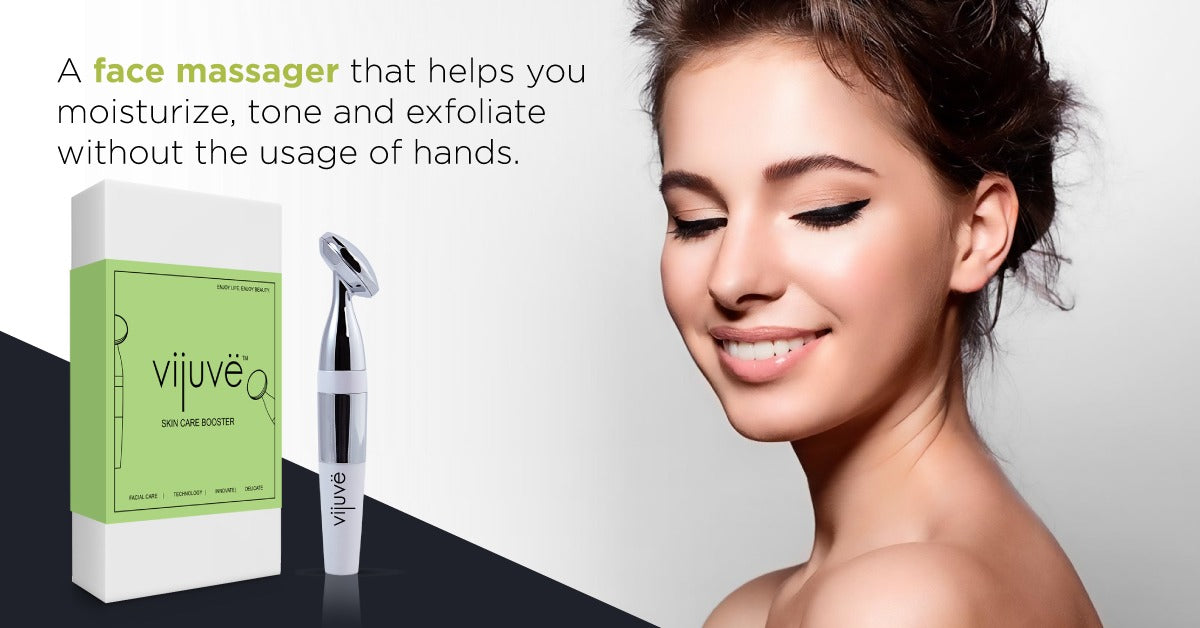 What Does VIJUVE Face Massager Do?
The main concern facing everyone today is not only the fulfillment of basic necessities but also to look the best at all times. People nowadays are not only striving for better houses, food or cars but also for better physical presentation. If we were to say that good looks are taking over merit and attributes, then we might not be wrong.
In times of such competition, everybody is striving for better and better. Be it your personal reputation or your looks. And the first thing which is the overall foundation of your looks is your face. People nowadays are taking better care of their skin specifically that of their face.  Following a strict beauty, the regime has become a must. For this some steps are religiously followed:
Cleanse
Tone
Moisturize
Exfoliate
Now, imagine doing all of this with your hands which carry dirt and bacteria from everywhere.
But the question arises is
How to remain protected from bacteria?
With an improved technology and scientific researches, bacteria free application of your moisturizer or cleanser is now possible.
Wondering how?
VIJUVE Face Massager is the answer. A face massager that helps you moisturize, tone or exfoliate without the usage of hands. This also means that now you will be able to make greater use of your product.
In addition to it, your product will now be completely absorbed by your face rather than your hands in the massaging process. None of the product will go wasted now.
This face massager will deliver not only what is mentioned above but will also tone and contour your skin. This is a tried and tested product which helps to clean, tone, moisturize and exfoliate your skin and also lowers down the effects that rubbing and pulling by hand causes.
What Does Vijuve Face Massager Actually Do?
 Vijuve face massager does not only help you to relax your skin muscles but it also benefits in many other ways. It is helpful in increasing blood flow, leading to decreased puffiness and improved circulation. This ultimately helps produce collagen and elastin and reduces the appearance of stress lines and wrinkles. It enhances the overall beauty of your skin and gives a fresher look.
Vijuve face massager will make you look younger in just days.
That's not all, even the Korean Skin regime has been old against this non-invasive and jowl tightening gadget. 
Want to get and try it over your face?
---