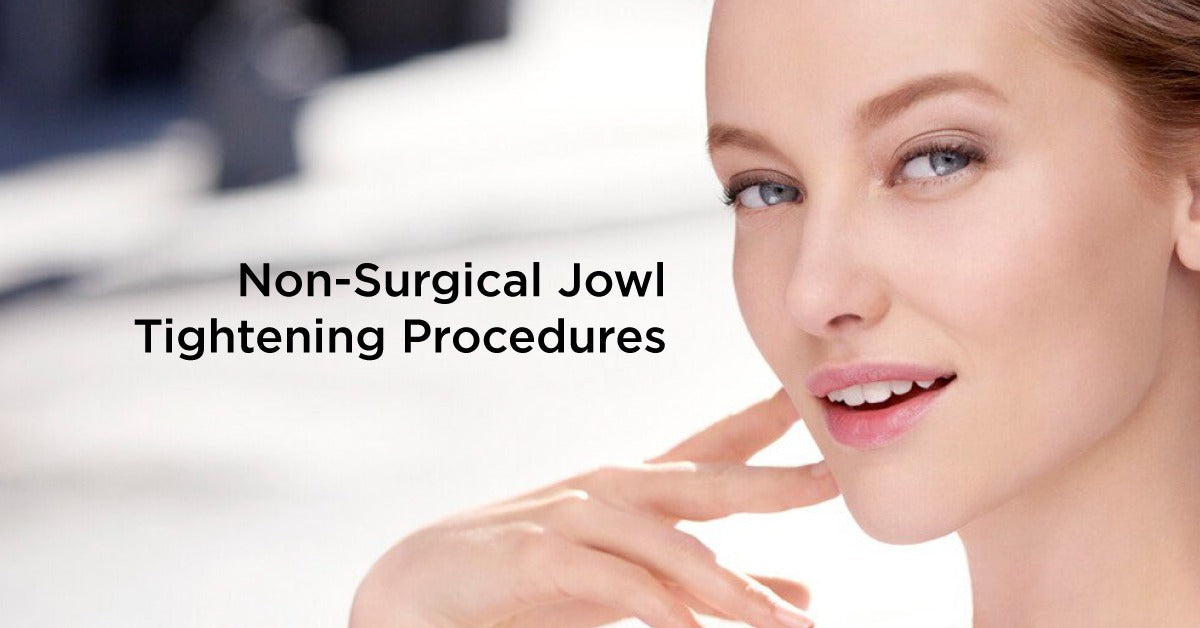 What Are Some Non-Surgical Jowl Tightening Procedures
Who doesn't want his/her facial glow to last long but with the inevitable factor that age is, it is hard to stay glowing while your life lasts.
The fact of aging and then those signs showing up on your skin have been in the world for a very long time. As time evolved, it also brought different treatments for maintaining that younger glow which, in the beginning, mostly included surgical treatments. But later people started to realize that surgical treatment for jowls tightening had its side effects, so the technology had to evolve.
Scientists discovered new ways to tighten the sagging skin and then came the non-surgical treatments. Non-surgical treatments gave new hope to the gaining public and they realized that they do not always have to go under the knife to look younger. Non-surgical treatment could do it without any hassle and the results improved along with reduced side effects. 
Another attraction of these treatments was that they could be performed quickly and this is the reason we are here to discuss some major non-surgical treatments for tightening jowls and these treatments can be beneficial to you in a lot of ways.
With Post Skin Issues Dermal Fillers Can Do it in No Time
Most of the sagging is caused because with age, we eventually lose our facial volume which creates hollow spaces and gaps in our skin tissues. With the help of injectable fillers, the lost volume can be restored within no time. It will give you the impression like you had a facelift even though you didn't go for surgery.
The most commonly used fillers are Hyaluronic acid-based fillers and are the most popular option for tightening your jowls. Some other fillers include collagen fillers, a permanent filler, and semi-permanent fillers. 
Without any doubt these rule the anti-aging industry for a longer span. However, their after-effects can't be neglected even.
Botox- Another Common Option
Most of the wrinkles caused by the skin are because your muscled have created tension among them. They get contract and tense so they should be relaxed. Botox is a treatment that injects neuro-modulator in your tissues and makes them relax temporarily. This helps the tissues to ease and reduces wrinkles enigmatically.
Botox is one of the most commonly used non-surgical practices because it reduces frown lines and wrinkles very effectively.
However, a reportedly shorter lifespan of Botox and the pain caused through incisions is what prevents people from applying these any more.
Here Comes More
The above-mentioned treatments are good options, but their results don't always last long. Another effective treatment is fat transfer. This procedure includes trimming of fat from your body and filling in facial hollows. This is a long-lasting effect and has been becoming common among the people as it is a non-surgical treatment. You will be using your own fat for this purpose, so your muscles will accept it without any hindrances.
VIJUVE- The Latest Jowl Tightening Device 
Above mentioned are some of the most commonly used non-surgical practices in the world. However, the late of an era of 2017 has witnessed another breakthrough in Jowl Tightening Procedures in terms of VIJUVE Face Massager. 
The charismatic results of this device and the recorded sale of these on Amazon have left people with the open eyes. In case, you want to see what people have been saying about this spectacular jowl tightening device, we would rather ask you to check it out on Amazon
If these still don't work for you as we know that most people don't want to go extents when it comes to their fact. You can always go for face massagers. Their results may be delayed but they are always a secure option to go for.
One of the most famous face massagers is VIJUVE Face Massager. You can buy it from us and see for yourself how useful it can be. This was all on this, we hope this is able to help you out.
---