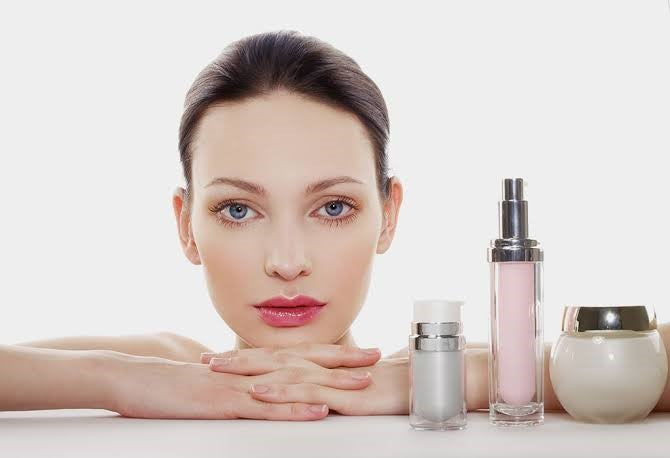 Vitamin C Serum: Skin Healer
We've come across many women facing skin problems. We tried to find a satisfactory product to overcome this problem. VITAMIN C SERUM is now in stock to overcome this arising enigma of skin problems.
SKINCARE is crucial nowadays allowing a large number Of women to have perfect skin at any age. A skincare routine should be followed by every woman and for this, we have added more to the skin healing and repairing process: Vitamin C serum.
A skincare routine with Vitamin C serum allows the skin to remove pre-mature wrinkles, early aging effects, freckles, fine lines, and clogged pores.
1.Morning routine:
When you wake up in the morning, your skin pores are open and some women also face oil spillage all over the face especially on cheeks, chin, and forehead. Oily skin leads to many skin problems including pimples formation, acne, scars, etc. Vitamin c serum for the face allows the face to reverse these all side effects. It works as an antioxidant and accelerates elastin and collagen release.
STEPS TO FOLLOW FOR MORNING ROUTINE:
Wash your face thoroughly with face wash. (Any type)
Take a cleanser according to your skin type (oily or Dry). Apply it all over your face and do a massage with your fingers in a circular motion for 1-2 minutes. Then rinse it off.
Apply toner on your face.
Then apply vitamin c serum all over your face.
HOW TO USE VITAMIN C SERUM: 
Take a few drops of vitamin c serum and apply to your face and neck.
Massage in a circular motion for 1 minute.
You can do it one or two times a day.
Then apply a moisturizer.
Then apply eye cream for dark circles.
Apply sunblock lotion or UV protection cream. (Not to skip)
Morning skincare routine with the best vitamin c serum will allow your skin to remain to soothe for 10-12 hours.
1. 
Midday routine:
The majority are working women who come in contact with direct skin-damaging UV Rays, environmental effects, due to which they often deal with skin problems. Vitamin c serum for acne allows the skin to avoid damages caused by these effects.
Use a soothing lotion 2-3 times a day.
If going out, apply sunblock.
Apply a moisturizer.
2. 
Evening routine:
Evening skincare routine allows the skin to remain hydrated and smooth.
Use a face scrub ( twice or thrice a week).
Apply acne cream. ( if you have acne problem)
Vitamin E and Vitamin C serum contain anti-aging properties that will help you to boost your elastin release and reverse the side effects of premature wrinkles.
Vitamin C serum for acne is considered best meeting the moral standards of the skin needs and allowing maximum procurement within the skin and increased blood flow which in turn is best for regaining ELASTICITY of skin.
3. 
Night routine:
A night skincare routine is considered crucial as you have to sleep for hours and your skin must be free from all kinds of external products that you have applied all over the day.
 You can cure your problem of hyperpigmentation by applying vitamin c serum that should be used at night before sleep. We've introduced the best vitamin c serum for hyperpigmentation to overcome the problem of women facing skin rashes, scars, pimples, acne, pigmentation, and wrinkles.
What you have to do:
Wash your face thoroughly.
Remove makeup. (If you've applied it before)
Start with a face cleanser. Do a massage on your face with a cleanser for 1-2 minutes and then rinse it off.
Apply a skin toner.
Now apply vitamin c face serum. It will make your skin soothed well.
Never use a moisturizer before the serum. After you've applied face serum, apply skin moisturizer.
Then apply eye cream.
If you have any spots on your skin then apply your skin type of spots cream.
Now go to bed and sleep.
Use this routine regularly for smooth, even skin tone and pimples free skin.
Never be eager to see results, it will take some days for you to start seeing results and during this period you will feel you are doing nothing using this routine but it's advisable to give your skin some time to rejuvenate the results.
Skin requires two weeks or 1 month to get fully adapted to the product you're using on your skin.
Advice: Change your product from time to time according to your skin needs but use this sequence to get maximum benefits + vitamin c serum for best results.
Face masks and natural remedies:
Face masks can be an option along with a skincare routine to procure maximum skin benefits. The best know face mask is Egg and Honey mask.
Advice:  Never use any type of face mask for too long. Apply it only for 10-20 Minutes.
Natural remedies:
The best known natural remedy is aloe vera. Most women have aloe Vera plants in their homes

.
How to use :
Extract aloe Vera sap directly from the plant.
Mix it with coconut oil or honey.
Apply the solution to acne and spots and let it rest for 5-10 minutes.
Rinse afterward.
Try using different types of products especially those recommended by the dermatologist. Vitamin C serum for the face is introduced to make skin smooth and well-toned.
Healthy Diet:
Keeping your diet healthy is necessary for the skin. Try to keep a satisfactory balance between diet and health.
If you're not keeping a healthy diet, it will lead to malnutrition. Skin will become dehydrated which will lead to many skin problems.
Must eat fruits, nuts, and vegetables.
Drink different kinds of juices.
Drink 8 glasses of water a day.
Avoid too many fatty meals.
We are now to underscore some of the benefits of Vitamin C serum:
Many women tackled skin problems by using this serum.
It contains acidic properties that help your skin to accelerate protein secretions that will contribute to your skin to REGAIN elasticity gradually and help to remove premature wrinkles and reverse aging effects.
Use this twice a day for best results.
You will gradually see vitamin c serum benefits.
Conclusion:
Use this skincare routine with vitamin c serum, you will see gradual changes in your skin that will leave you wondered.
Vitamin c serum before and after results:
After using vitamin c serum, you will see your skin is getting healthy, wrinkles free and most likely your scars will start to diminish.
You can easily compare yours before and after results that would leave you in shock about the beauty of this serum and its quality results.
---