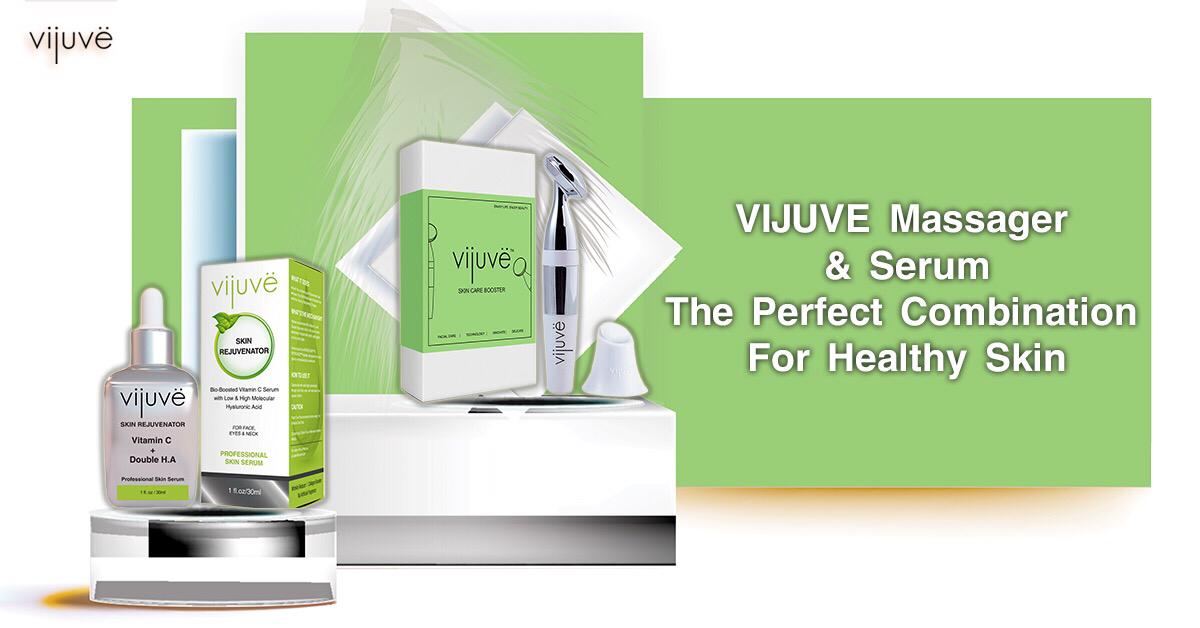 VIJUVE Massager And Serum- The Perfect Combination For Healthy Skin
Almost every other person in the world longs for smooth, glowing and healthy skin. To be perfect and look beautiful we all lookout for products that not only suit best for our skin but provide the desired results as well. Although we have various types of creams, lotions, toners, and sunscreens placed beautifully in our cupboards, hardly any of them is beneficial or even if they are beneficial to some extent to won't be providing the complete results we want.
Giving time to your skin is very important
Another issue that we face our inconsistent routine regarding our skincare regime. Each and every other person is indulging in their busy lives that we hardly get any time to take care of ourselves. We often completely ignore our skin or we apply whatever we have in haste. It is very important in every aspect to have a consistent and proper skincare routine every single day.
Serums are the best options as compared to heavy moisturizers
As compared to other heavy creams and lotions serums are much lighter in weight that easily absorbs in the surface of the skin and penetrates your skin with the effective ingredients it has. However, if serums are easier to absorb than heavy moisturizers, therefore, it is important to check out the ingredients your serum has. Always opt for the ones that have a good amount of vitamin C, collagen peptide and Hyaluronic acid. These three ingredients combined give a glowing effect to the skin thus enhancing the skin elasticity and minimizing the appearances of large pores of the face.
The VIJUVE face serum is exactly the serum you want for your skin. It contains all the beneficial ingredients along with vitamin C that enhances your facial glow, collagen peptides and Hyaluronic acids that increase blood circulations and face elasticity to keep you safe from large pores and drooping skin that happen usually due to old age.
You Shouldn't Miss the Face Massager Though
The VIJUVE face serum is of no use if you miss the VIJUVE anti-aging face massager. The anti-aging face massager helps in penetrating the serum deeper into the skin so that your skin gets benefitted from all the ingredients it has. Moreover, the Vijuve face massager is a great way to resolves the skin issues that comes with old age.
VIJUVE face Massager and Serum- the Ultimate Solution to Old Age Skin Problems
Wrinkles, drooping skin, patchy complexion, and large pores are major drawbacks that come with old age. Most of the time people find it really hard to overcome and prevent these problems. However, if you follow a consistent and healthy routine along with a proper diet you can surely get a hand of these problems in time.  The VIJUVE face massager used along with Vijuve face serum is the ultimate solution to control all the above-mentioned skin issues in no time. So hurry up and get your hands on the VIJUVE face massager and serum before it runs out of stock.
---