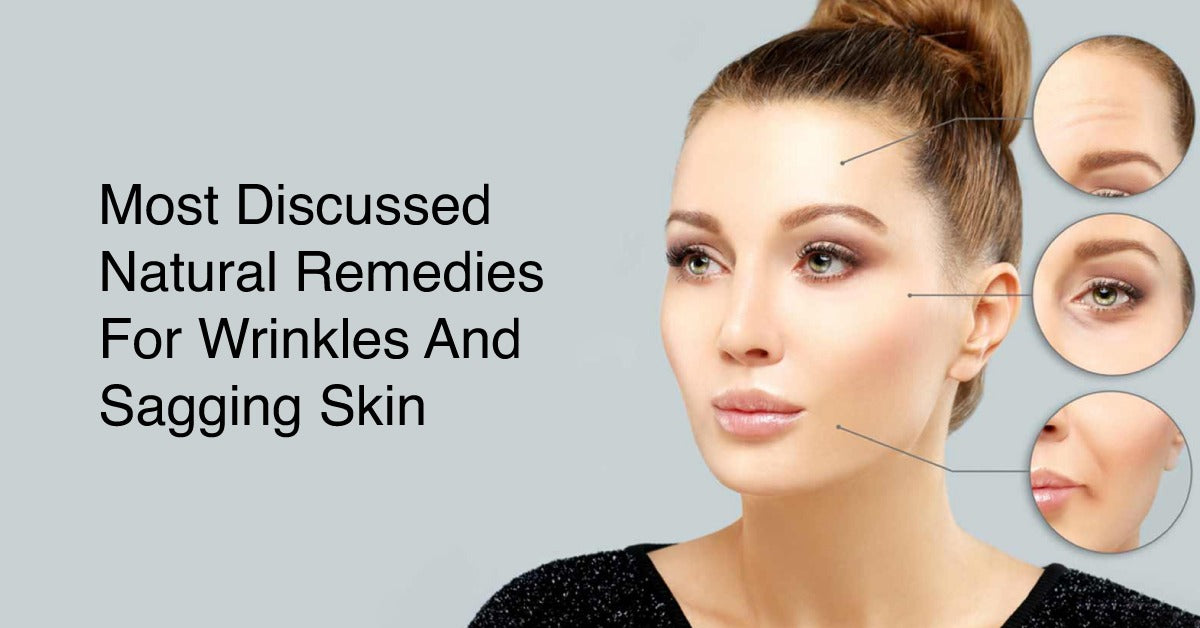 Most Discussed Natural Remedies for Wrinkles and Sagging Skin
Wrinkles and Sagging Skin 
The fine lines, wrinkles, crow's feet, frown lines, and sagging skin are the famous aging signs. By removing them, we can turn back the clock. When it comes to removing the aging signs such as wrinkles and sagging skin, we often resort to the simple home remedies before we consider an advanced anti-aging treatment.
Natural Remedies for Wrinkles & Sagging Skin
Some most discussed natural remedies for wrinkles and sagging skin are mentioned below;
Honey: It has natural hydrating, antioxidant, and anti-aging properties that are good for loose and sagging skin. Take 2 to 3 spoons of honey and mix it with a few drops of lemon juice and olive oil. Apply it to the skin and let it dry. Then rinse it off with warm water.
Lemon: The lemon juice is rich in Vitamin C. It boosts the collagen production and makes the skin elastic and tight. Extract the juice of a lemon and gently rub it on your neck and face. Keep it for ten minutes and then wash the face with water.
Aloe Vera: When it comes to firming and tightening the loose skin, Aloe Vera is the best. You can smear the gel of Aloe Vera on your face and neck. Keep it one for 15 to 20 minutes and then wash it with lukewarm water.
Cucumber: We can use it for firming and tightening loose skin. Grind and extract the juice of cucumber; apply it on the face and let it dry. Then rinse it off with cool water. Doing it on a daily basis delivers amazing results.
Egg White: It is a famous source for skin nourishing. By whisking one or two eggs white, you can get a foamy substance that can be applied to the face and neck. Leave it one for 20 minutes and then rinse it off.
Oil Massage: The use of natural oils such as Olive oil can tighten the loose skin. Before applying the oil on the skin, warm it a bit in the microwave. Extra-virgin olive oil can then be applied to the face. It is good to massage it for 10 minutes with fingertips in a circular motion.
Last But Not Least At Home Anti Wrinkle Device
Apart from the natural remedies, the inclination of people toward at home anti wrinkle devices is the next big that is reshaping the industry. And we won't mind acknowledging that, these have made things simple and easy. 

In case you are looking for a result-driven at home face massage, then trying our massager will leave you breathless. 
---