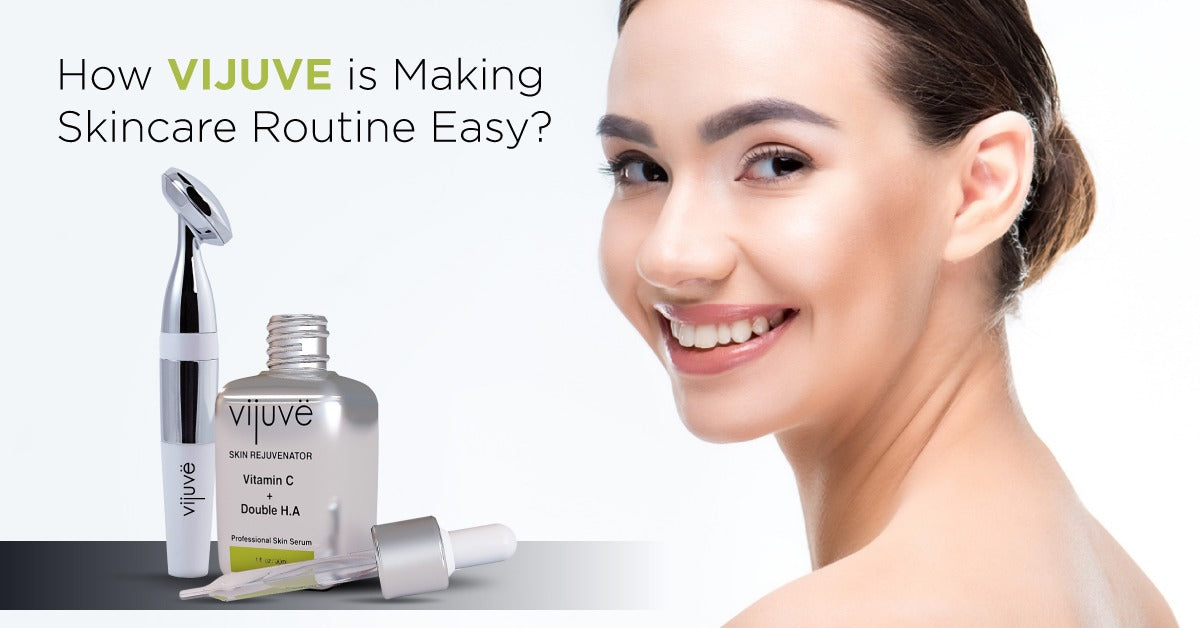 How VIJUVE is Making Skincare Routine Easy?
Facial massage is the ultimate secret that every skin professional relies on because as science puts it our face has over 40 muscles. And just like every other muscle in the body, the more these muscles are lifted, moved or tightened the more toned they get. 
Since the weather is changing a lot and these changing weather demand a lot. This Sometimes a year is all good and well for someone who can have time for a detailed skincare routine of ten steps or for that it girl ready to bask her face in those gold and glitter mask. But for those that barely have any time, patience or money to be spending at such a pro glow may not be the best time of the year.
Fortunately, with every problem, there is always a solution allowing each one of us to have a joyful summer glow. For this purpose, VIJUVE has come out with their vitamin C face serum and a skin care booster face massager for that in-house facial to have that glowing healthy skin. After all, who would care for your skin better than VIJUVE?
A facial massage is something that gives a relaxing and pleasant experience. It makes the skin feel stress-free, fresh and rejuvenated.
According to the skin experts a beauty facial once a month can do wonders for the skin. Not only does it help the skin to get rid of the excess oil, dirt or dead cells accumulated on the skin but also make the skin radiant, attractive and cleaner. Most of the people spend millions of bucks at spas or salons but not everyone has that kind of money or time.
VIJUVE has kept all these concerns in mind while launching their products so that one can have a facial massage at home and look just as beautiful as they just had a spa appointment.
VIJUVE Face Massager
VIJUVE has created an at-home facial massager with all the qualities of a spa equipment. It works as a replacement for all the other skin tightening machines just a whole lot better. For instance, the face massager does not require charging it and is truly portable bearing no wires or cords. It is an on the go machine with a slim and sleek design. The face massager produces up to 9000 vibrations that normalize the sebum present in the skin.
VIJUVE face serum, when used together with the VIJUVE face massager, is the ultimate cure for all your skin worries. As the face massager with its efficient technology provides the even distribution of the serum and fights off aging signs, imparting that younger looking skin. Together they work to rebuild collagen production in the skin taking away the dark spots and dark circles underneath the eyes.
VIJUVE Vitamin C Face Serum
The VIJUVE face serum with its special formula maintains the glow of the skin, has a similar philosophy to botox but it is smoother and safer. As it contains collagen peptide, it works as an anti-wrinkle fighting off the fine lines and any other aging signs.
The serum is designed with a carefully picked out cell reprogramming formula that makes the skin glowing, lifted and radiant. The inclusion of the low and high molecular weight hyaluronic acid keeps the moisture locked in the skin all day long.
As the serum is enriched with all the natural ingredients it keeps the sin from breaking out or drying. It also protects the skin against any splotches or redness. This all makes it an All-in-one skincare.
VIJUVE is known to create skincare products for perfectionists and people that know the importance of uniqueness. It focuses to add enjoyment and relaxation to the lives of its customers. So do not wait much on this one and order the ultimate face serum and face massager right now and your skin will thank you for it.
---