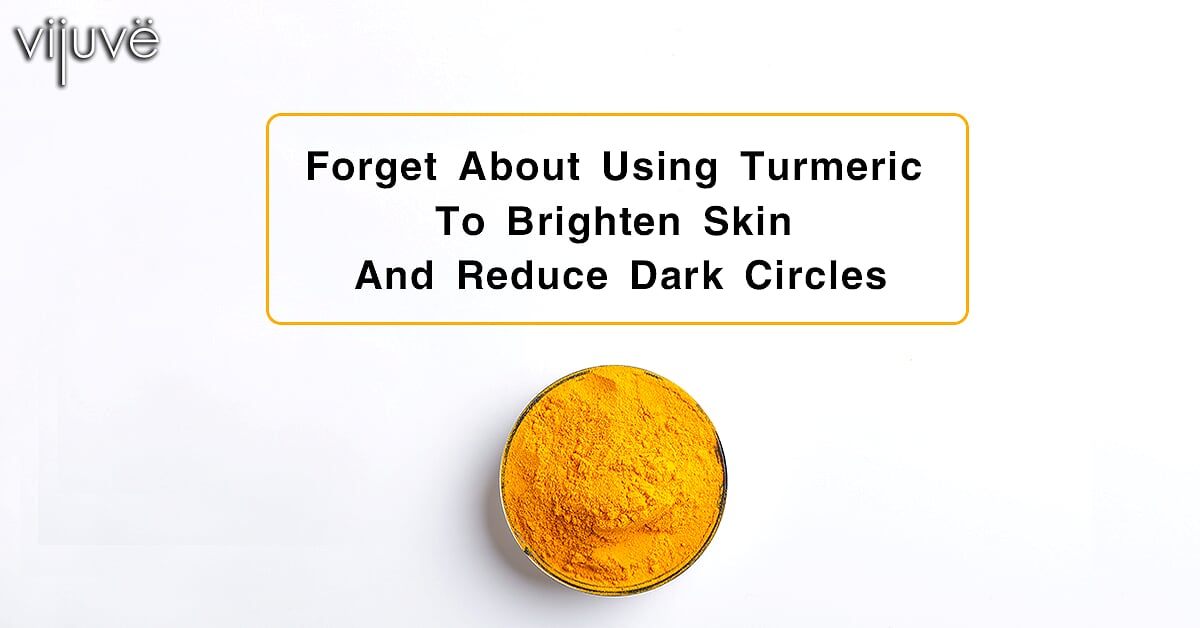 Forget About Using Turmeric To Brighten Skin And Reduce Dark Circles
If you have been using turmeric to brighten dull skin and you still haven't got your desired results, then, my friend it is time to forget about it. Yes it may have worked to brighten skin for various numbers of people but if you aren't getting your results then it is quite useless.
When it comes to skin beauty measure, two things are prioritized, first, bright looking skin that not only glows but looks fresh too. Secondly, your eyes add beauty to face but if they are encircled in dark skin they might bring down your face-value altogether.
Facemasks are guaranteed organic alternates
Consider a few facemasks if you want to stick to organic solutions which don't contain turmeric and also give pro-efficient results.
Try An Egg Facemask For A Glowing Skin
Just two ingredients, egg and almond oil will do the magic. Mix one egg with 5 drops of almond oil, apply this mixture on the face and let it sit for 15 minutes. Wash off with lukewarm water for an instant glow that lasts all day.
Yogurt, Aloe-Vera And Honey Mask Is An All-Rounder
Take organic honey, 2 tablespoons honey 1 tablespoon yogurt. Mix them well and apply on skin for 15 minutes. Wash off with lukewarm water. This mask really wonders in soothing and hydrating the skin, aloe is known for its replenishing properties making the skin looking brighter and healthier.
What other option do you have if you aren't looking for something organic but want a beauty product as good as organic?
This is a trick question because branded skincare products might promise about being packed with nourishing ingredients but really they are merely emulsifiers.
When you decide to buy a skincare product, there should be two things you should definitely get your hands on. Skin serum and a good massager should be your must-haves. So what to look for when choosing a skin serum?
Best Skin Serums Contain These Properties
When you go to a supermarket there are shelves loaded with thousands of different branded company products. But what to look for when deciding on a good skin serum?
Serums are a refined form of moisturizers but they are weightless on the skin enriched with vitamins and good skin ingredients. Serums that contain salicylic acid are chosen due to their anti-bacterial properties which also help in fighting acne. Look for acids with Vitamin A, E, and C which not only will brighten your skin, help fight wrinkles, dark circles but also help tighten and uplift the skin.
Vitamin C is majorly responsible for brightening the skin and helps reduce dark circles around eyes.  So which product has all of these properties packed in one? VIJUVE 45% Vitamin C serum has all the Vitamin C, E and the right hyaluronic acid to keep that skin of yours glowing and radiant.
 Massaging Is An Essential Part Of Skin Regime Routines
Let's be honest, we all overlook this step because it is "oh so time-consuming" but honestly the crux of a younger brighter looking skin lays here. When you massage your skin, you are actually increasing the blood circulation on your face which means more cells will get repaired and that dull skin due to dead cell layers also gets dismissed. Good blood circulation by massaging helps reduce dark circles, eye bags and puffiness around eyes.
VIJUVE Anti Aging Face Massager for Wrinkles Appearance Removal and Facial Skin Tightening is the perfect accessory to help good blood circulation on your face and neck. Plus it helps skin looking fresh and brighter with every use.
 Conclusion
If you are still stuck with the old school turmeric hacks, well then, it is time to upgrade to VIJUVE skin serums and massager. It is your ultimate alternative to turmeric to brighten your skin, improve skin elasticity so it stays firm and your skin looks gorgeous every day.
---