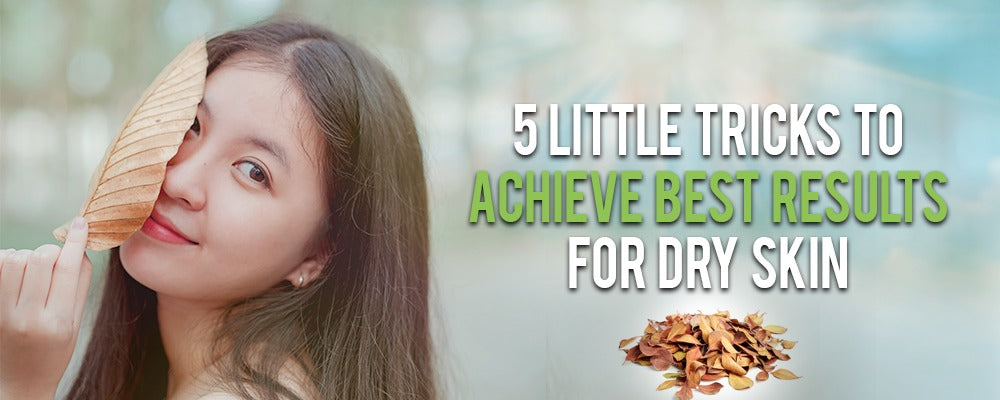 5 Little Tricks to Achieve Best Results For Dry Skin
Want a green skin routine?? Skin is perhaps the best fashion accessory a woman can have. It's an exceptional foundation of your physical beauty. Following the usual skin care practice year round may not work so well when the humidity jumps down. Dry skin can flake, itch, chap and even bleed. Unfortunately, the cold harsh winds of winter create wreaking havoc on our glowing skin. Winter can signify lackluster and dry skin, which is never a good look. When you´re dealing with dry skin, you want rapid help. Will you pack off yourself to a peeling and flaky fate??!! The answer is surely no because a beautiful skin is a reflection of an overall personality and wellness.
1) Steaming your face:
Do you want your skin to look extra enhanced?  Then it's important to steam your face on regular basis. This can be made by filling a bucket or a bowl with boiling water and draping your head over the steam with a towel over you. Dry skin can be the result of arid atmosphere taking off the humid that helps in bringing back moisture to your skin.
2) Apply moisturizer instantly after washing:
 Lotions, creams and ointments (moisturizers) work by confining existing moisture in your skin. To lock in, this much- necessary moisture, you need to apply a moisturizer after few minutes of two important things:
Drying off after a bath or shower
Washing your hands and face
3) Use an ointment or cream rather than a lotion:
Do you want to know what is more soothing for your dry skin than those creams and ointments?? The good news is that you can apply different oils as well such as olive oil, coconut, jojoba or mustard oil. Shea butter also works fine. Other ingredients that aid to appease dry skin include lactic acid, glycerin, petrolatum and mineral oil.
4) Stay warm without cozying up to a direct heat source:
Don't expose yourself directly to any open flame as it will end up only in rashes and irritation. Keep your skin hydrated and avoid as much as heat you can!
5) Prevent showers and baths from making dry skin poorer:
When your skin is dry, be convinced to:
Use warm rather than hot water 
Limit your time in the shower( 5 or 10 minutes)
Wash with a gentle cleanser 
Close the bathroom door
Use moisturizer without delay after drying your skin
If you haven't tried any product yet then start your counting with our brand VIJUVE, which will remove dirt and impurities from your dry skin. Our gentle formula is more than ever designed to reduce the effect of skin irritations. This blend is great for all skin types, especially dry and problematic skins.
---